Questo comunicato è stato pubblicato più di 30 giorni fa. Le informazioni su questa pagina potrebbero non essere attendibili.
The report "Plant-based Meat Market by Source (Soy, Wheat, Pea, & Other Sources), Product (Burger Patties, Strips & Nuggets, Sausages, Meatballs, & Other Products), Type (Beef, Chicken, Pork, Fish, & Other Types), Process, and Region - Global Forecast to 2025" According to MarketsandMarkets, the global plant-based meat market size is estimated to be valued at USD 4.3 billion in 2020. It is projected to reach USD 8.3 billion by 2025, recording a CAGR of 14.0% in terms of value. Growing vegan and flexitarian populations across the world, rising awareness about the health benefits offered by plant-based meat over animal meat, and growth in government initiatives along with significant investments are driving the global plant-based meat market.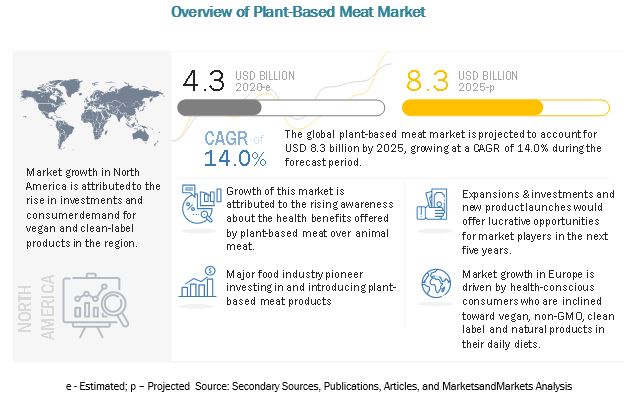 Drivers: Rising Awareness About The Health Benefits Offered By Plant-Based Meat Over Animal Meat
The plant-based trend continues to grow, encouraging people to eat more fruits, vegetables, legumes, nuts, and seeds. Also, there are various health benefits associated with plant-based products, about which consumers are getting more aware recently. Excessive consumption of animal-based meat may result in diet-related diseases such as obesity, type-2 diabetes, heart disease, and certain cancers. On the other hand, the consumption of plant-based meat does not give rise to such diseases. Moreover, they aid in building better immunity. The nutritional benefits of plant-based meats and their safety compared with conventional meat are also some of the important factors that have been contributing to gaining the attention of consumers.
Download PDF Brochure:
https://www.marketsandmarkets.com/pdfdownloadNew.asp?id=44922705
Plant-based meat products are significantly replacing conventionally processed meat products such as burgers, sausages, and nuggets. Plant-based meat contains lower levels of saturated fat, cholesterol, and calories than animal-based meat. They often contain higher levels of micronutrients, such as zinc, iron, and calcium.
Restraints: Higher price of products in comparison to traditional meat
Price is one of the major restraining factors in the plant-based meat market. Plant-based meat is uneconomical when compared to animal-based meat, which is likely to impact its growth in price-sensitive markets such as India, China, and South Africa. Companies offering plant-based meat alternatives are trying to reduce prices, as their high price over conventional meat hinders the rapidly growing plant-based industry.
Plant-based meat is more expensive than regular meat. The prices of plant-based meat products are further expected to increase due to trade barriers, disruptions in the supply of raw materials, and inefficient distribution channels due to COVID-19. The non-availability and high cost of raw materials and high production costs are likely to restrain the growth of the global plant-based meat market. Plant-based meat market growth is further grappled due to the economic slowdown in various countries due to the coronavirus outbreak.
The strips & nuggets segment is projected to grow at a significant growth rate in the plant-based meat market during the forecast period
By product, the plant-based meat market is segmented into burger patties, strips & nuggets, sausages, meatballs, and other products such as slices, fillets, cutlets, slides, fingers, and crumbles. They are a healthier alternative to meat and are environmentally more sustainable, which is why more food manufacturers are developing plant-based meat products. Several start-ups are going mainstream with the launch of plant-based burgers, nuggets, sausage, meatballs, and other products. Impossible Foods Inc. (US) and Beyond Meat (US) were among the key players to enter the plant-based meat market. These companies are backed by various types of investors, including leading players such as Tyson Foods (US).
Make an Inquiry:
https://www.marketsandmarkets.com/Enquiry_Before_BuyingNew.asp?id=44922705
The North American region is also expected to grow at the highest CAGR during the forecasted period
North America is the fastest growing region in the global plant-based meat market. For American consumers, meat is a very prominent part of their diets. However, as many researches highlighted the health risks related to the consumption of red meat, consumers are increasingly shifting toward plant-based diets as they are a healthier option as compared to animal meat. Furthermore, Consumers in the region are adopting a flexitarian lifestyle and are incorporating plant-based foods in their daily routine diets. Along with this, the trend of veganism is gaining momentum in the region, which is further contributing to the growth of the plant-based meat market. Governments are also investing heavily in the plant-based protein industry, as there is a rise of vegan and vegetarian eating.
This report includes a study on the marketing and development strategies, along with the product portfolios of leading companies. It consists of profiles of leading companies, such as Beyond Meat (US), Impossible Foods Inc. (US), Maple Leaf Foods (Canada), The Vegetarian Butcher (Netherlands), Gardein Protein International (Canada), Morningstar Farms (US), Quorn Foods (US), Amy's Kitchen (US), Tofurky (US), Gold&Green Foods Ltd. (Finland), Sunfed (New Zealand), VBites Food Limited (UK), Alpha Foods (US), Planterra Foods (US), Before the Butcher (US), No Evil Foods (US), Like Meat (Germany), The Meatless Farm Co. (England), Hooray Foods (US), and Yves Veggie Cuisine (Canada).