Questo comunicato è stato pubblicato più di 30 giorni fa. Le informazioni su questa pagina potrebbero non essere attendibili.
The specialty fertilizers market is estimated to account for a value of USD 36.1 billion in 2019 and is projected to grow at a CAGR of 6.4% from 2019, to reach a value of USD 52.4 billion by 2025. The increase in demand for enhanced high-efficiency fertilizers, ease of use and application of specialty fertilizers, and adoption of precision farming and protected agriculture are some of the factors that are projected to drive the growth of the specialty fertilizers market.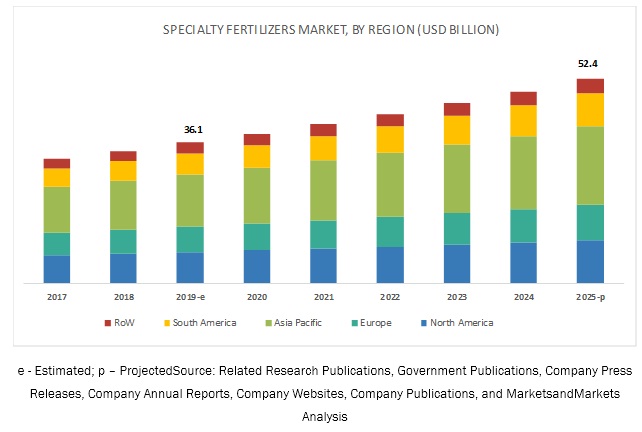 By crop type, the fruits & vegetables segment is projected to be the fastest-growing segment in the specialty fertilizers market during the forecast period.
The trend of consuming fruits has witnessed a growth in the past two decades, and this trend is projected to continue in the coming years. According to the FAO, China is the largest producer of fresh fruits and vegetables, which has surpassed the production and growth in the US and India in 2018. The increasing exports of fruits & vegetables have also led to an increase in the crop plantation area, which has resulted in a rise in their production levels. Hence, the specialty fertilizers market for fruits & vegetables is projected to witness significant growth.
Download PDF Brochure:
https://www.marketsandmarkets.com/pdfdownloadNew.asp?id=57479139
By type, the urea-ammonium nitrate segment is projected to dominate the specialty fertilizers market during the forecast period.
UAN is considered to be an excellent irrigation fertilizer for cereal production and irrigated plant cultivation. It is basically used before plowing the field, which helps in enhancing its degradation. Solutions of urea ammonium nitrate (UAN) are widely used as a source of nitrogen for plant nutrition. In combination with plant protective agents, it is mixed in the irrigation water for irrigated plant cultivation. Fluid fertilizers are blended together to meet the specific needs of a crop. Its advantage is that it contains both fast (nitrate-nitrogen) and slow (ammonium nitrogen and amide nitrogen) components, just as ammonium nitrate and urea.
South America is projected to grow at the highest CAGR during the forecast period.
The market for specialty fertilizers in the South America region is projected to grow at the highest CAGR from 2019 to 2025. According to FAOSTAT, Brazil is the largest producer of agricultural products due to the availability of abundant land and rural labor force, followed by Argentina . The growth in South America is majorly attributed to the increase in the adoption of agrochemicals and advancements in farming techniques in Brazil and Argentina with distribution channels established by global agrochemical players. Due to these factors, the market in the South America region is projected to record the highest growth from 2019 to 2025.
This report includes a study on the marketing and development strategies, along with a study on the product portfolios of the leading companies operating in the liquid fertilizers market. It includes the profiles of leading companies, such as Nutrien, Ltd. (Canada), Yara International ASA (Norway), Israel Chemical Ltd. (Israel), K + S Aktiengesellschaft (Germany), Sociedad Química Y Minera De Chile (SQM) (Chile), The Mosaic Company (US), EuroChem Group (Switzerland), CF Industries Holdings, Inc. (US), OCP Group (Morocco), OCI Nitrogen (Netherlands), Wilbur-Ellis (US), Kugler (US) , Haifa Group (Israel), COMPO Expert GmbH (Germany), AgroLiquid (US), Plant Food Company, Inc. (US), Coromandel International Ltd (India), and Deepak Fertilizers & Petrochemicals Corporation Ltd. (India), Nufarm ( Australia), and Brandt (US).
Speak to Analyst: https://www.marketsandmarkets.com/speaktoanalystNew.asp?id=57479139
Recent Developments:
In September 2019, Nutrien, Ltd. acquired Ruralco Holdings Limited (Ruralco) in Australia. Through this acquisition, Nutrien would be able to provide significant benefits to its stakeholders, as well as enhance the delivery of its products and services to the Australian farmers.

In June 2019, EuroChem Group expanded its fertilizer production facility by opening a third new fertilizer blending plant in Brazil. This production center was a new 27,000 m2 facility at Araguari in Minas Gerais, which was another step in the continued expansion of EuroChem's subsidiary, Fertilizantes Tocantins (FTO). It is a major fertilizer distribution business in Brazil.

In February 2018, Haifa Group expanded its presence in China by opening a subsidiary named Haifa Beijing Trading Company in China. This subsidiary would significantly help in expanding its offerings to the developing Chinese agricultural sector by providing the best plant nutrition solutions for the benefits of the Chinese growers.

In March 2019, Yara International ASA launched Yaralix, a tool for precision farming, allowing the farmers to measure crop nitrogen requirements using their smartphones. The system consisted of a free-to-download-app that was designed to use the smartphone camera to determine nitrogen requirements for different crops in the early growth stages.