Questo comunicato è stato pubblicato più di 30 giorni fa. Le informazioni su questa pagina potrebbero non essere attendibili.
The smart harvest market is projected to reach USD 15.6 billion by 2023, from USD 9.0 billion in 2018, at a CAGR of 11.81% during the forecast period. The rise in population has led to increased food demand, which in turn has led to increased pressure on farmers to increase yield and area harvested for various crops. However, global labor shortage in agriculture is one of the major factors leading to loss of yield due to improper maintenance and farming practices. To cater to this issue, farmers are highly adopting farm mechanization and other smart agriculture techniques to optimize their crop yields.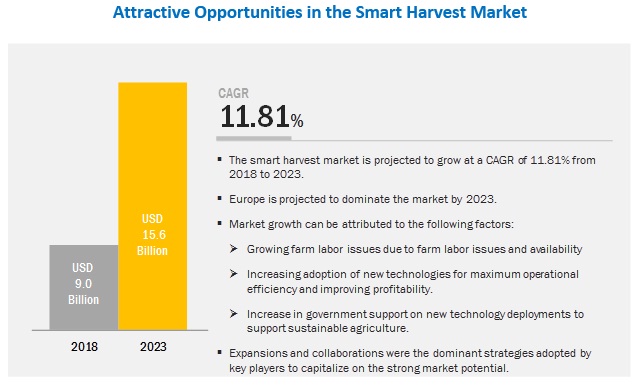 Declining farmlands to drive growth for indoor farming applications of smart harvest in the coming years
The smart harvest market is segmented on the basis of site of operation into on-field, greenhouses, and indoor farming. The market for on-field systems is projected to record the highest CAGR between 2018 and 2023. The development of smart harvest technologies and robots aims to minimize the impact of labor shortage, while also maximizing the benefits realized by the end users in the form of cost and time benefits. Declining farmlands in developing countries are expected to favor the growth for indoor systems during the next decade.
Download PDF Brochure:
https://www.marketsandmarkets.com/pdfdownloadNew.asp?id=7445954
Improving hardware dexterity drives the growth for harvesting robot technologies in fruits during the forecast period
The harvesting robots market is segmented on the basis of crop type into vegetables and fruits. Manufacturers are developing and testing various harvesting robot technologies for commercial deployment during the forecast period. The current generation of smart harvest technologies is capable of harvesting a variety of fruits including apples, strawberries, and citrus fruits (lemons and oranges). The use of smart harvest systems expands the possibilities of integrating yield monitoring sensors and ripening controllers across a wide variety of fruits.
Europe is projected to dominate the smart harvest market by 2023.
The smart harvest market in Europe is projected to witness significant growth during the forecast period due to the prospect of increasing production, labor shortage issues, development of smart technologies, and their adoption in agriculture. The developed countries in the European Union are in the forefront of adopting smart harvest technologies in a bid to improve the production output and reduce the costs associated with harvesting. Additionally, the development of smart harvest technologies is being actively encouraged, driven by both public and private programs to bring about the commercialization of these technologies. Projects such as the CROPS (Clever Robots for Crops), SWEEPER (Sweet Pepper Harvesting Robot),
Speak to Analyst:
https://www.marketsandmarkets.com/speaktoanalystNew.asp?id=7445954
This report includes a study of the development strategies, along with the product portfolios of leading companies. It also includes the profiles of leading companies such as Robert Bosch GmbH (Germany), Deere & Company (US), Smart Harvest Ltd. (UK), Dogtooth Technologies (UK), Harvest Automation (US), Panasonic Corporation (Japan), Root AI (US), Abundant Robotics (US), Iron Ox (US), Agrobot (Spain), Energid Technologies Corp. (US), FFRobotics (Israel), Vision Robotics Corp. (US), Metomotion (Israel), AVL Motion (Netherlands), and Harvest Croo (US).