Questo comunicato è stato pubblicato più di 1 anno fa. Le informazioni su questa pagina potrebbero non essere attendibili.
Global Viral Clearance Service Market - Snapshot
The global viral clearance service market was valued at US$ 261.9 Mn in 2017 and is anticipated to reach US$ 902.1 Mn by 2026, expanding at a CAGR of 14.9% from 2018 to 2026. Increase in demand for detection of virus removal/inactivation in products during their early stages of development, rise in R&D expenditure, growing preference for outsourcing of viral clearance service to contract research organizations, rise in consumer awareness about safety associated with the use of health care and vaccines, and increase in concern of viral effects of blood-derived products are some factors boosting the demand for viral clearance service. Moreover, emergence of technologies, such as nanofilteration and chromatography services, and choice of choosing the method depends on type of product, process, and regulatory. The user would need to determine the level of virus clearance required (as per logarithmic reduction) before marketing approval of new molecules. Companies have started focusing on efficacy and quality with high investments in R&D owing to stringent restructuring of regulations by both U.S. FDA and the European Medicines Agency that have put in place requirements for viral safety in relation to biologics. This has ultimately helped boost the viral clearance service market.
The viral clearance service market is witnessing robust expansion owing to increasing complexity of clinical trials, greater number of regulatory hurdles, and high investment required for infrastructure that results in greater clinical trials cost. Consequently, rising number of pharmaceutical companies are partnering with viral clearance service providers having the requisite infrastructure and expertise to manage costs and deadlines. Moreover, increasing focus on specialty drugs is likely to fuel the market, as specialty drugs require scientific expertise and highly tailored clinical trials that significantly increase costs.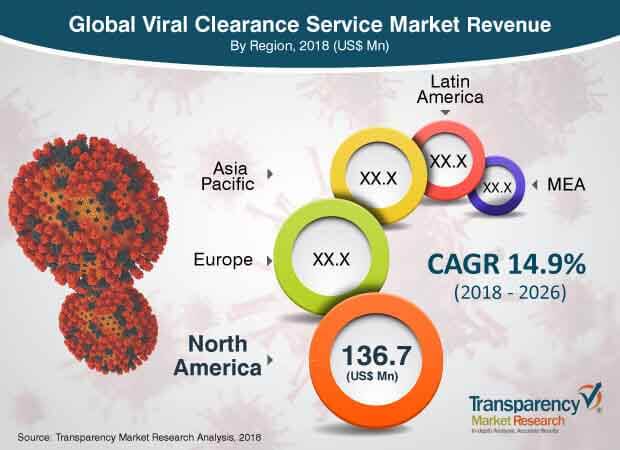 Download Sample PDF with Detailed Analysis @ https://www.transparencymarketresearch.com/sample/sample.php?flag=S&rep_id=53502
The viral clearance service market has been segmented based on application, method, end-user, and region. In terms of applications, the recombinant proteins segment is estimated to account for a prominent share of the market. Rising prevalence of diseases, such as cardiovascular, diabetes, and oncological, robust pipeline of pharmaceutical and biopharmaceutical products, increasing expenditure on research and development, rising emphasis on innovative treatment therapies for existing as well upcoming diseases, increasing demand for outsourcing analytical testing, and optimal service provided by the viral clearance service provider companies are major factors driving the global viral clearance service market.
In terms of method, the global viral clearance services has been classified into viral removal and viral inactivation method. The viral removal segment leads the market and accounts for a major share, as it is a robust and effective method of removal of different types of viruses. It is also expensive, safe, and brings about a high degree of purity of sample. The viral inactivation segment has been further sub-segmented into chemical, radiation, and others such as pasteurization and dry and moist heat treatment.
In terms of end-user, the global viral clearance service market has been categorized into biopharmaceuticals, contract research organizations, academic research institutes and other end-users. The biopharmaceuticals segment held a major market share in 2017. This can be attributed to the rise in R&D expenditure of these industries, increased outsourcing of clinical studies to contract research organizations that enables them to manage R&D costs and focus on their core competencies, and increase in pressure from regulatory agencies for viral removal/inactivation process in order to prove product safety to obtain market approval.
In terms of region, the global viral clearance service market has been categorized into North America, Europe, Asia Pacific, Latin America, and Middle East & Africa. North America dominates the global viral clearance services market due to the presence of a large number of viral clearance removal/inactivation service providers, high health care spending, and stringent regulations governing safety assessment of biologics and vaccines. Europe follows North America in terms of share of the market, which can be ascribed to the amendment of regulation made by governments in Europe in order to assess the safety of biological substances. The market in Asia Pacific is projected to expand at a significant CAGR during the forecast period owing to the emergence of CROs offering viral clearance services, as per regulatory requirements at a lower cost than that in other developed regions.
Prominent players operating in the global viral clearance service market include Texcell, Eurofins Scientific SE, Charles River Laboratories International, Inc., Merck KGaA (BioReliance), WuXi AppTec, Clean Cells, and Vironova Biosafety. Key players are expanding their product portfolio through mergers & acquisitions and partnerships & collaborations with leading pharmaceutical and biotechnology companies and by providing better services at a lower cost.
Browse Report Overview of Viral Clearance Service Market @ https://www.transparencymarketresearch.com/viral-clearance-service-market.html