Questo comunicato è stato pubblicato più di 6 mesi fa. Le informazioni su questa pagina potrebbero non essere attendibili.
Con preghiera di pubblicazione
For the editors
Cristian Avram Nanni Balestrini Carla Bedini Neil Beloufa Alin Bozbiciu Thomas Braida
Linda Carrara Juan Carlos Ceci Pierluca Cetera Sabine Delafon Nebojša Despotović
Gabriele Di Matteo Alda Failoni Keith Farquhar Dido Fontana Andrea Fontanari Julia Frank
Daniel González Gabriele Grones Allison Katz Oleg Kulik Tamara Janes Chantal Joffe
Zoe Lacchei Marcos Lutyens Sissa Micheli Gian Marco Montesano Ruben Montini
Massimiliano Muner Nero/Alessandro Neretti Laurina Paperina Luca Pozzi
Federico Seppi Ivano Troisi Sojourner Truth Parsons Costa Vece
Opening Saturday, May 25th, 7 - 9 pm

Boccanera Gallery Trento, via Alto Adige 176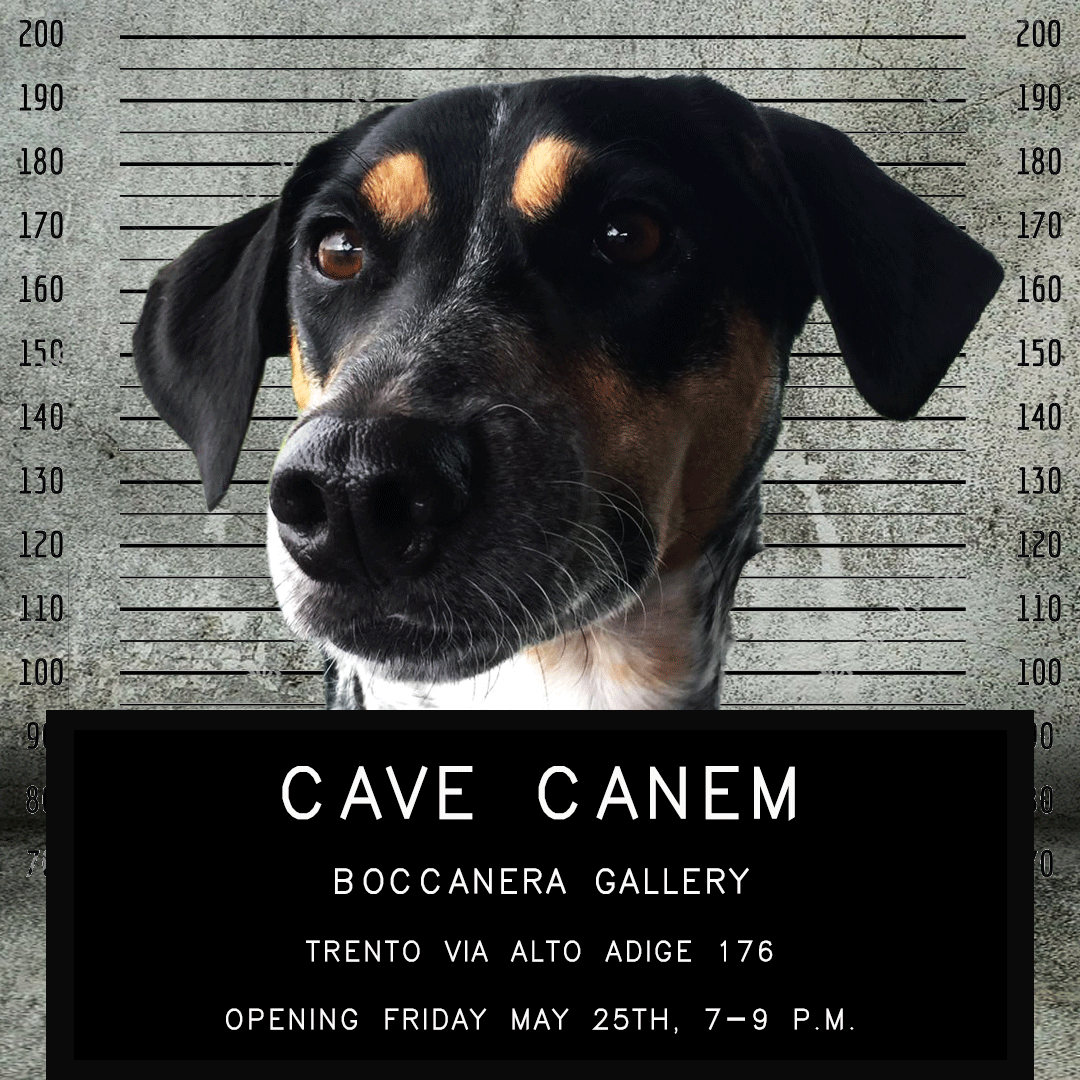 IT

La raffigurazione del cane nella storia dell'arte ha spesso definito una stretta relazione simbolica e idealizzata dell'animale e del suo proprietario, molte volte rappresentati insieme. Così ci raccontano i ritratti dipinti nel rinascimento che mescolano la centralità dell'uomo con la curiosità per la natura.

Molto spesso, nelle sue implicazioni religioso-morali ma anche politiche ed economiche, il cane è simbolo di fedeltà verso l'altro. Nella società contemporanea diventa facilmente un alter ego del padrone o un'entità sulla quale proiettare i propri desideri di realizzazione. Basti pensare al grande successo della vendita di oggetti legati alla cura dei cani (dagli abiti, ai collari preziosi, ai giochi, ai trasportini, ai cuscini stravaganti) o dei siti che li pubblicizzano e alla nascita di veri e propri

accounts, capaci di attirare milioni di

followers, dove si raccontano le azioni, le pose, le emozioni, degli amici fedeli.

Boccanera Gallery, dal 26 maggio al 7 settembre 2019, dedica una mostra alla figura del cane dal titolo "Cave Canem". La citazione dei mosaici di Pompei, che ritraggono un cane nero legato, rivela il desiderio di mostrare e di mettere in dialogo uno dei temi più antichi della pittura figurativa e, nello stesso tempo, la parte più intima di alcune selezionate collezioni private a partire dalla collezione personale di Giorgia Lucchi Boccanera, fondatrice e titolare di Boccanera Gallery, e di Peggy (e prima Kira), le sue amate meticce. Giorgia, nella sua storia decennale di gallerista, ha spesso raccontato delle sue esperienze con i cani agli artisti con cui ha lavorato e talvolta loro stessi hanno dedicato un'opera alla figura del cane, scoprendo poi che molti collezionisti hanno condiviso questa sua passione per l'aspetto più riservato della propria rappresentazione domestica.
La mostra raccoglie, infatti, le opere di trentasei artisti, che provengono dalla collezione privata Lucchi Boccanera, e di alcuni collezionisti e di alcune gallerie o di alcuni artisti ai quali è stato chiesto di un lavoro che raffiguri il proprio amato animale domestico come una estensione del proprio se', pronto a dialogare con le altre rappresentazioni e con la sorpresa del visitatore accolto in questa speciale "Esposizione Internazionale Canina".

La mostra è accompagnata da un piccolo volume arricchito da un racconto inedito di Brigidina Gentile intitolato

Cave Canem. Caffe` Utopia.
EN

The depiction of the dog in art history has often reflected a close symbolic and idealised relationship between the animal and his owner, very often shown together. This is what we are told by the Renaissance portraits, which blend the centrality of the figure of man with his curiosity for nature.


In its religious-moral but also political and economic implications, the dog is very often a symbol of loyalty towards the other. In contemporary society, dogs readily become an alter ego of their owners or an entity on which to project their desires for achievement. Suffice to think of the great success of the sale of objects linked to dog care (from apparel to studded collars, from toys to carriers and outlandishly ornate resting cushions) or the sites that advertise them and the presence of genuine canine social network accounts, with ones attracting millions of followers, recounting the exploits, the poses and all the emotions of these faithful friends.


From 25 May to 7 September 2019, the Boccanera Gallery dedicates an exhibition to the figure of the dog entitled "Cave Canem". The words taken from the mosaics of Pompeii, portraying a black dog on a leash, reveal the desire to showcase and to dialogue with one of the most ancient themes of figurative painting, yet at the same time the most intimate part of a number of selected private collections, starting from the personal collection of Giorgia Lucchi Boccanera, founder and owner of the Boccanera Gallery, and of Peggy (and before her, Kira), her beloved mongrels. Over her ten-year history as a gallerist, Giorgia has often recounted her experiences with dogs to the artists she has worked with, and they themselves have frequently dedicated works to the figure of the dog, only to discover that many collectors shared this passion of hers for one the most private aspects of their own domestic portrayals.


Indeed, the exhibition brings together the works of thirty-six artists, from the private collection of Lucchi Boccanera and of a number of collectors, as well as a number of galleries or artists called upon to provide a work depicting their own beloved pet as an extension of themselves, ready to dialogue with other representations as well as with the surprise of visitors, welcomed to this very special "International Dog Show".


The exhibition is accompanied by a short volume featuring a previously unpublished short story by Brigidina Gentile titled

Cave Canem. Caffé Utopia.
"CAVE CANEM"
BOCCANERA GALLERY TRENTO, VIA ALTO ADIGE 176
Inaugurazione: sabato 25 maggio dalle ore 19.00 alle ore 21.00
Opening: Saturday May 25th, 7 - 9 pm
26 maggio - 7 settembre 2019 | May 26th - September 7th, 2019
ATTACHMENT 1: Image of the press release of the exhibition "Cave Canem", Courtesy Boccanera Gallery Trento/Milano
ATTACHMENT 2: Zoe Lacchei,

Play the Game, 2019, mixed media on Giclée print, 42 x 29,7 cm, Courtesy Boccanera Gallery Trento/Milano

ATTACHMENT 3: Allison Katz,

Anyone with the Wish, 2015, acrylic on canvas, 90 x 179,5 cm, Courtesy Collezione Mauro De Iorio

ATTACHMENT 1:
ATTACHMENT 2:
ATTACHMENT 3: